ETC Sensors have a unique technology embedded in them called Geomagnetic Sensing that monitors the Earth's magnetic field in real time and then reacts to anomalies caused by ferrous metals found in plungers. By connecting Vision, we can see the changes to the magnetic field in real time.
What You Need
Before planning to monitor a sensor, you should make sure you have:
Video Tutorial
Connect Vision
Follow these steps to physically connect the sensor using a Serial connection and establish a communication session.
Set The Sensor Mode
Ensure that the switch on the physical sensor is set to Program Mode (0).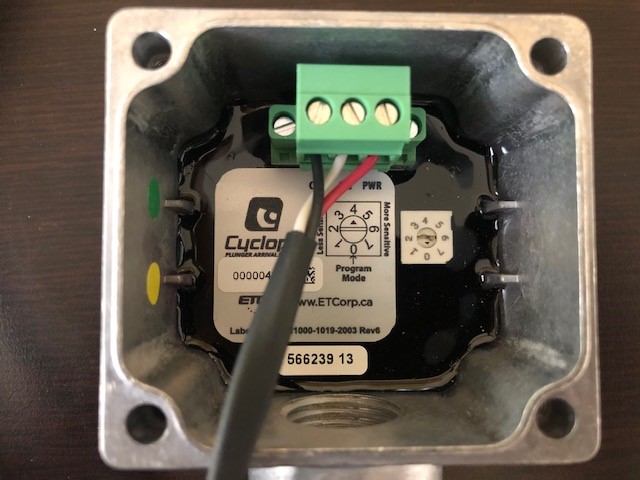 2. Set the Sensor Mode in Vision by clicking Capture – Full Debug and clicking Set Mode.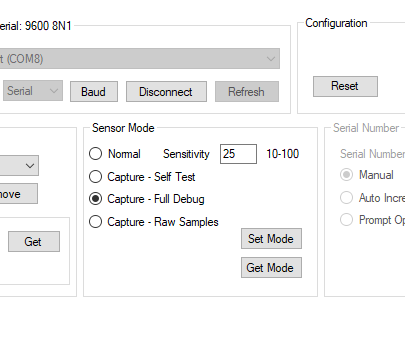 3. Set the switch on the physical sensor to a non-zero position (dial setting 4 is the default operational setting).
4. Navigate to the Capture tab in Vision and click Start to begin the capture.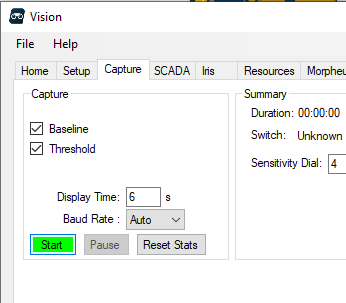 What am I Seeing?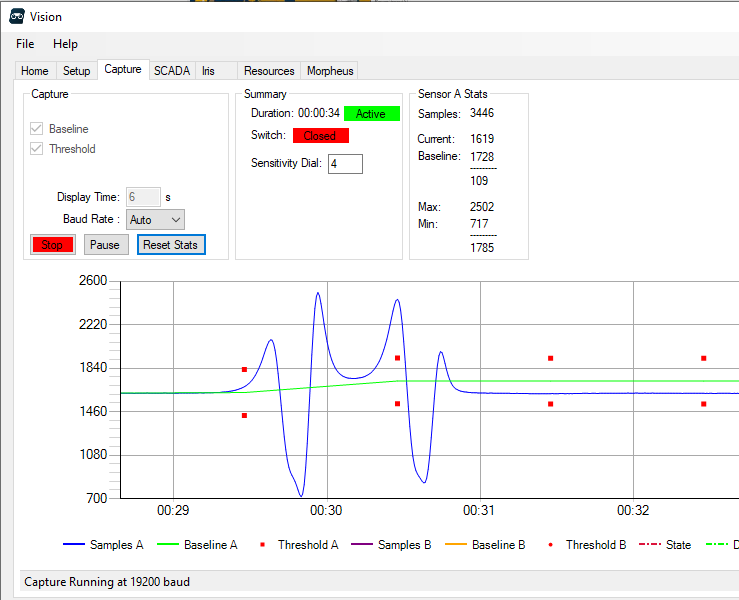 Real Time Samples
The Samples (blue line) are a filtered view of the magnetic readings that the sensors uses to make decisions on. If you wish to see unfiltered readings, the Sensor Mode can be changed to Capture – Raw Samples.
Baseline
The Baseline (green line) is the long term average that is meant to represent the No Plunger condition.
Sensitivity Dial
The sensitivity dial on the physical sensor is read and displayed in the summary section at the top.
Threshold
The Threshold (red dots) is set based on the sensitivity dial and sets a buffer above and below the Baseline. Any change in the Samples within the buffer will be ignored.
Output Switch
The current Switch status is shown in the Summary box at the top of the screen.
Plunger Arrival
The sensor monitors the Samples, Baseline, and Threshold in real time. When the Samples deviate outside the Threshold in either direction the Switch is closed.
How to Disconnect
Stop the capture.
Navigate to the Setup tab and change the Sensor Mode back to Normal.
Disconnect the serial connection.
Unplug the cable.