Geomagnetic sensing is a technology that uses a magnetometer and a microprocessor to read the Earth's magnetic field and look for changes in the field over time to detect an event. This technology is used in both the Cyclops and Sasquatch sensors.

Video Overview
Benefits of geomagnetic sensing
There are several benefits to geomagnetic sensing compared to other detection technologies:
Does not generate a magnetic field which causes interference with other equipment
Lower power
More reliable

Digital filter eliminates false trips
Adjustable sensitivity allows for use with more well types
Auto calibrating

More serviceable

See what your sensor sees with Vision running on a PC
Adjust sensitivity beyond the dial limits
Some of the other benefits that are gained by a digital sensor include:
Upgradable firmware
Digitally controlled and held output
Ability to capture and log plunger arrival data
Multi voltage capable
How it works
As the plunger arrives, the magnetic field of the Earth is pushed and pulled to create a bending or temporary disruption. We compare the change in field to the pre-recorded, filtered baseline and then determine if that change was enough to be considered a plunger arrival.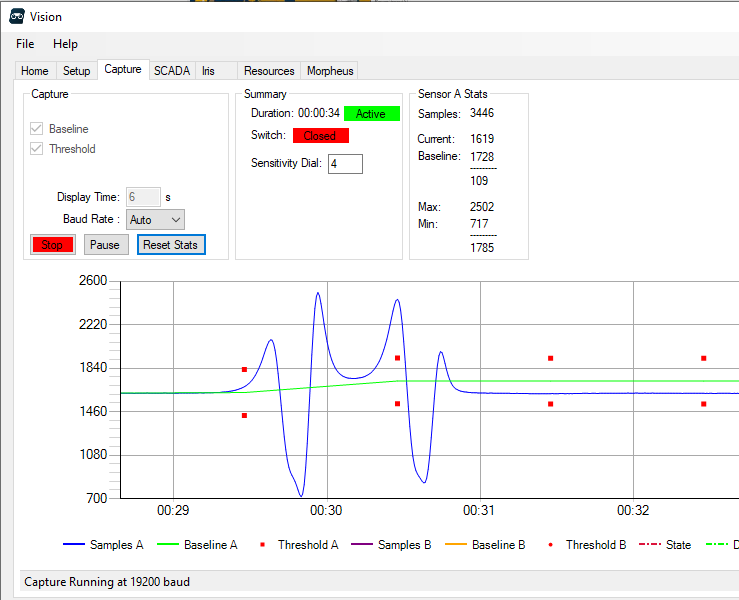 This is how to interpret the wave forms in the capture above:
Blue Line – Real time magnetic samples, filtered to remove high frequency noise
Green Line – Baseline created from taking long term samples
Red Dots – The change required from the baseline to be considered a trip. This changes dynamically based on the sensitivity dial setting
Capture data from your sensor
If you want to capture data in real time from your Cyclops or Sasquatch, check out this demo and instructions.
More Information
Check out our training programs for more details on the ins and outs of Geomagnetic Sensing and how you can use it to increase profitability of your plunger wells.